I thought I would try and explain my multiple marathon insanity by letting you know about two clubs that I am a member of.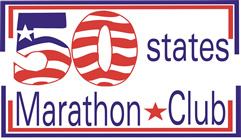 The first club is the
50 States Marathon Club
. I was Finally able to join this club in April of 2012. The club is basically what the name implies. The goal of members is to run a marathon in each of the 50 United States. You can officially join the club once you have run marathons in 10 states. I remember sitting on the curb waiting to run my very first marathon, Chicago 2005, and a gentlemen sat down next to me and started up a conversation. He said he was trying to finish a marathon in all 50 states. I thought that this was the craziest thing I had ever heard. I couldn't imagine doing one let alone 50!! I finished that first marathon and it took me two years to think about doing another one. Then it took another two years for the next one. But that third one was perfect and I got hooked. I then remembered that conversation and thought well wouldn't that be fun to try. I already had three states: Illinois, New York, and Florida. So let's try for a few close ones. Wisconsin, Michigan, Colorado and Nebraska were next. Then we moved on to Indiana, Missouri, Virginia and Kentucky. My latest state was Oregon. So here I am with 12 states already. My goal is to hit 50 states by the time I'm 50. So I have 8 ½ years left to meet my goal. This will be a really fun thing to try and accomplish and Dave and I are already enjoying seeing parts of the country we have never been to.
50 States Progress
Completed Once
,
Completed Multiple Times
,
Registered For 2013
The second club is the
Marathon Maniacs
. I became a member of this club in November 2011. The criteria to enter at the Bronze, 1 star level, is to run 3 marathons in 90 days or 2 marathons in 16 days. I qualified in 2011 by running the Omaha Marathon and then Chicago just 2 weeks later. The fun just starts by qualifying though. There are different levels of insanity. Bronze is minor insanity, Titanium, 10 star, is full on insanity. To qualify for the highest level you must either run 52 marathons in 365 days or do 30 marathons in 30 different US states in 365 days. That is insane. You may remember my friend
Larry Macon
, whom I ran the
Sunriver Marathon
with, just finished his 157th marathon in 2012. He is beyond the Titanium level, they don't make a category for his level of insanity. In
2012
I was able to move up to an Iridium 4 star Maniac. I did 9 marathons in 9 different states in 365 days. I think I will be staying a 4 star Maniac for quite a while. But you never know…