C
harity of the Month is a way Team Tizzel is helping to support some very worthy organizations. As part of this program, we will dedicate a post to a charity that we will sponsor through the month by donating Holly's
training run money
.
December
: In December we sponsored Toys for Tots to help give children a little joy at Christmas time. We had a fun buying several items before Christmas and dropping them off in a donation box at our local brewery (owned by an ex-Marine). We will also be donating $125 to Toys for Tots via their website.
January's Charity: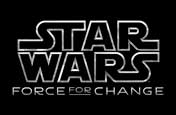 Many of our readers know we are Star Wars fans. We thought it would be fitting to find a way to tie-in the launch of
The Force Awakens
to the Charity of the Month. Force for Change is an initiative managed by Disney and Lucasfilms to partner with charitable organizations that inspire people to be "forces of change" in their lives.
One of the current initiatives supports UNICEF's Kid Power Project. It is inspiring kids globally to live a healthy active life through a "good-for-life" wearable activity tracker. Since Team Tizzel has a slight running focus we thought this was a perfect way to support Force for Change.
From the Kid Power website:
Be a Force for Change
Star Wars
: Force for Change, a charitable initiative from Disney and Lucasfilm, is dedicated to finding creative solutions to some of the world's biggest challenges and empowers youth to be global forces for change in their own lives and for children around the world. This year,
Star Wars
: Force for Change will benefit UNICEF Kid Power.
When you donate to the U.S. Fund for UNICEF in support of
Star Wars
: Force for Change, you will support UNICEF Kid Power and help children around the world grow up healthy. Kid Power is an innovative program that empowers kids to get physically active using the world's first Wearable-For-Good. Built for a new generation of global citizens, Kid Power inspires kids to take action and help save the lives of children in developing countries with every step they take.
How it works:
Kids wear Kid Power Bands – the world's first Wearable-for-Good – to measure their physical activity while they get active.
Activity and movement unlock Kid Power Points and the more kids move, the more points they earn.
Kid Power Points are converted to funding by partners, and funds are used by UNICEF to deliver lifesaving packets of therapeutic food to severely malnourished children.
By making a 100% tax-deductible donation to the U.S. Fund for UNICEF today, you can be a Force for Change and help children in the U.S. and around the world grow up healthy.
Star Wars Force for Change FAQ:
What is Force for Change?
Star Wars

: Force for Change is a charitable initiative from Disney and Lucasfilm. Our goal is to harness

the strength of

Star Wars

and its global fandom to empower people to come together to make a

positive impact on the world around them. We want to inspire people to be "forces for change" in their
everyday lives.
What does it have to do with Star Wars?
Following the massive global success of Episode IV in the late 1970s, fans began to embrace Lucas' stories of struggle, hope and inspiration on a more personal level. Philanthropy was very important to George Lucas — he used early screenings to raise money for charities around the world with a particular emphasis on children's healthcare and education. Over the course of the last 35+ years, Star Wars fans have continued George's mission to support children in need, volunteering their time with costumed character visits at countless children's hospitals and raising millions of dollars in donations. In the spirit of these fan-generated charitable efforts, Force For Change was born.
Who does it benefit?
In its current phase, Star Wars: Force For Change is collaborating with UNICEF to benefit Kid Power, an innovative new program that uses the world's first wearable-for-good activity tracker to get youth physically active. The trackers provide lifesaving, nutrition-rich food packets to kids in need around the world, inspiring a new generation of global citizens who have an inherent desire to help others.
To support Kid Power, click on BB-8 below to go to their website.