Charity of the Month is a way Team Tizzel is helping to support some very worthy organizations. As part of this program, we will dedicate a post to a charity that we will sponsor through the month by donating Holly's training run money.
March Charity of the Month:
It's been a long time since we've visited Brookfield Zoo. It's very nice, just a bit too far to make the trip during the summer when the opportunity cost is a day on the lake.
What prompted us to pick the zoo this month was the receipt of our renewal letter for the Share the Care Animal Adoption Program. This is our 18th year of support. We started by supporting the zoo's new baby polar bear, Tiguak, in 2000. Tiguak was born at the zoo in the fall of 1999, but was rejected by the mother. Zookeepers hand-nursed her and kept her healthy. This was big news and hyped up in the media. Once she was placed into the display areas we made a visit and enjoyed watching her play with her toys and swimming.
Possibly one of the first pictures we took using a digital camera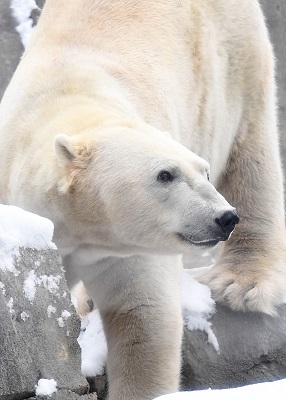 While at the zoo they asked us to join the Share the Care Program. With our package we received a photo of Tiguak. With follow-up donations each year we received an update on her well-being. After a few years she was transferred to another zoo and our care converted over to her younger brother Hudson.
While preparing to write this post we tried to find out what happened to Tiguak. Unfortunately she died in 2011 under anesthesia during a dental operation in Quebec.
In addition to keeping our Share the Care going for Hudson we started a new Share the Care for Holly's favorite animal - the giraffe. A few years ago Potoka went viral in a video of her prancing around her display area.