Today we're off to The Magic Kingdom. We're not going to see much of it this trip because Epcot's Food and Wine Festival is not at The Magic Kingdom.
Magic Kingdom is Holly's favorite park so our day started out with the Welcome Show in front of the train station. If you've never seen it here's a summary: A Citizen of Main Street comes out at 8:50 and welcomes you to a cute song about the park. Then some dancers come out and do a routine to some 1900's melodies. Next the train comes with some characters on it and a family of the day gets to stand with Mickey and open the park. If you want to be front-and-center for the show it puts you out for the Dumbo Dash. Why?
There are two narrow tunnels for the guests to use to actually get into the park. The farther you are from the tunnels the more people ahead of you. That means to make up for it you have to walk VERY fast (never run) to try and get on the first ride of Dumbo. This is a no-thrill ride, but it's quintessential Disney World. It's slow to load and does not hold many people. We trucked it and got on the 3rd running. Set us back by 15 minutes. Another reason to ride Dumbo nowadays is to get a view behind the construction wall to see the Fantasyland Expansion. Things are progressing......
The rest of the morning went well - crowds seemed low today. We even went on Tomorrowland Speedyway because it was a ten minute wait. We accomplished one big goal of Holly's: we met Buzz Lightyear. Usually it never works out.
We had a reservation at The Plaza at 1:15. This is an old-time themed restaurant in Main Street USA. We arrived on time and waited 25 minutes to be seated. Longest wait of the day. We're eating cheesesteak sandwiches at 2:00 and split a kid's dessert (so we can have a snack later).
The rest of the day went well. We got a lot more attractions in, did some good pin trading, and made a stop at Aloha Isle for Dole Whip (Holly) and root beer float (Dave). Since the Chicago Marathon was a week earlier Dave was used to working with his DSLR and not the instant camera that has a slight delay. Lots of blurry pics this trip.......
We left the park by boat and headed over to The Polynesian. Lots to do there. We started with a relaxing sit-down at their pool bar and tried Pipeline Porter: a coffee flavor beer. Nice. Then we toured the stores. We love their downstairs shop and The Wyland Gallery. Then we got some beverages from The Tambu Lounge and ended up getting our table at Ohana.
The good thing about Ohana is the food is very good and it's all you care to eat. The bad thing is they bring about 70 pounds of it to your table and you feel obliged to make a dent in it.
You start off with a nice salad and coconut bread. Then come potstickers, wings, and a ton of noodles. Next, the nice folks come around with 4 types of meats. You can't say no....... Then, when you are completely stuffed, the tasty bread pudding and ice cream comes.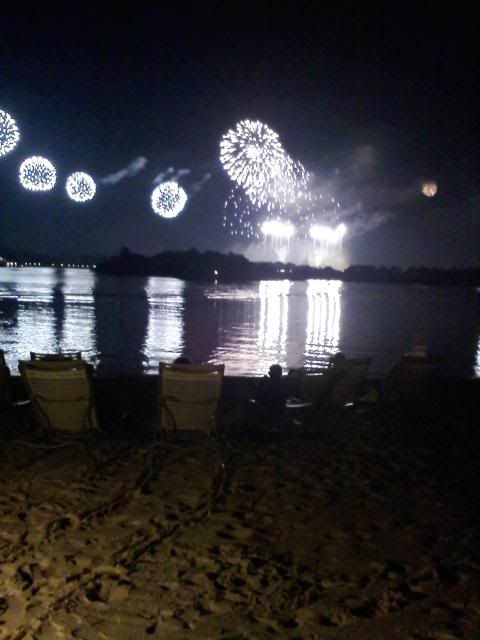 Now stuffed, we make a stop at Tambu to pick up supplies for the beach. This is where we are watching Hallowishes from. Hallowishes is a special fireworks show in The Magic Kingdom they show only nights they have Mickey's Not So Scary Halloween Parties. It costs extra to get in those nights and we decided to skip the party this year. The special effect of the fireworks is the 180 degree feel when you are in the park. You feel like the fireworks surround you. From a distance you get a nice panoramic effect. Worth the watch from here (photo to the left is not mine). Found this good YouTube video from the same vantage point:
After the fireworks we took a monorail to the Magic Kingdom so we could transfer to a Boardwalk Bus. The next day was Food and Wine Festival Round 1. Time to re-evaluate those ADRs.
Dave's Artsy Photo of the Day